Until we pulled up and saw the "Home of the Desert Elephant" sign, we didn't even know that there were elephants in Brandberg. But, sure enough, there are no less than 60 desert elephants in the area and we were lucky enough to leave with a few encounter stories to share.
A quick note, I did some research on the subspecies of African elephant and discovered that there are only two, the Savanna (or Bush) elephant and the Forest elephant. The type I'm talking about here are Savanna elephants, which Namibians in the Brandberg region refer to as Desert elephants.
The reason most people go to Brandberg is to see the white lady, a 2000+ year old bushmen painting on a small overhang deep within Namibia's highest mountain. To see the painting, you have to hire a guide and hike in. The hike is only about three miles through straightforward terrain, but guides are needed both to protect the painting against vandalism and to protect hikers from animals.
Our guide, Rion, was a very friendly guy. One of the first things he hold us was that there were indeed desert elephants in the riverbed that you hike through to get to the white lady. He explained that it was fine as long as we were okay with hiking on the rocks to avoid them.
Since elephants are very territorial, and desert elephants can be particularly aggressive, you need to keep your distance. If you get too close, they will charge you. However, they don't climb on rocks, so if you stay on high ground, they won't feel threatened and you'll be fine.
Luckily for us, Rion was very knowledgeable about the elephants and emphasized how much respect he has for them, which is the reason he knows so much about them.
Thanks to Rion, we know that desert elephants are smaller than the forest elephants that live in other parts of Namibia, like Etosha National Park, and can survive on only 250 liters of water every five days. That might be enough or even a lot for a human but is not a lot for an elephant.
They can smell water up to 6m below the ground and dig with their feet and trunks to get to it. When they find water, they drink by sucking up to 9 liters of it into their trunk and then putting the end of the trunk in their mouth and emptying the water in.
Okay, done nerding out about elephants for now...
Along our hike to the white lady, we saw five bulls (male elephants) in the riverbed, mostly hanging out in the shade under trees. On the way back, we saw two drinking from a small hole they had just dug.
It was so cool to see our first elephants in the wild and get photos with them. We had no idea we'd be running into them again so soon.
When we got back to the Brandberg White Lady Lodge, we saw two men standing at the wall directly behind our tent. We noticed them right away and wondered what they were doing. As we got out of the car, a truck with more men pulled up and we realized they worked for the lodge. One of the guys pointed in the direction of the yard area of our tent, where the outdoor sink and cooking area is, and said "we're just repairing the water lines. Elephants just came through here and tore it all up."
We looked in the direction he was pointing and it all clicked. The desert elephants dig for water. There are water lines and plumbing around the tent. We had narrowly missed the elephants! "Elephants were here? How long ago?" we asked.
"Oh, 10-15 minutes. They come through and get the water up and then drink. I tried to scare them away and one smaller bull chased me - you can see the footprints."
Sure enough, in the sandy dirt were huge circular elephant footprints.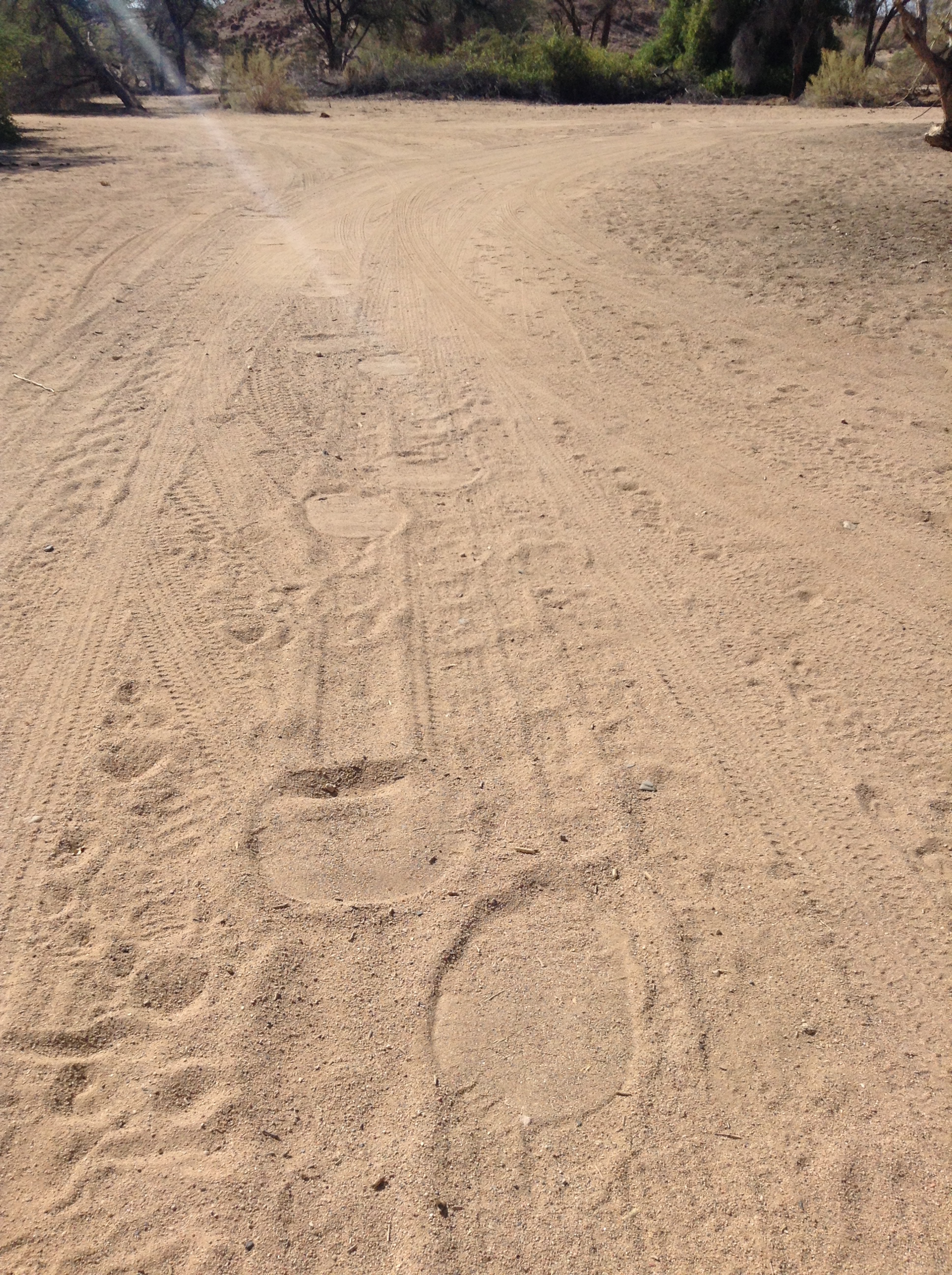 We asked if that happens a lot and he told us they repair water lines twice a day. Twice a day!
Mike and I couldn't believe that we had thought we were close to the elephants in the valley and meanwhile, as we drove up the road, they were mere feet from where we'd be sleeping.
When the guy told us that the tent were were staying in "seems to be their favorite," I thought, "oh, great, what if they come back in the middle of the night…"
But if they did come back, we didn't hear them, and in the morning all the water lines were still underground.
We were on the lookout for more but never saw any. We'd have to wait until Palmwag, our next stop, for more experiences with the big, beautiful troublemakers.